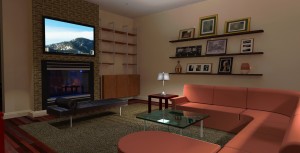 For this project our client was an interior designer who asked us to help her present her design to her client, a couple who moved from a small 2 bedroom apartment in Park Slope to a 4,000 square foot home in Staten Island, NY.  They had no idea how to plan for so much space.
The designer produced floor plans and elevations but the clients had difficulty visualizing the proposal.  Working from the designer's plans, we produced a Virtual Renovation model of two sample rooms, a Bedroom and a Family Room.
We then worked with the designer to identify specific details and produced PhotoReal renderings of the two rooms to fully illustrate her vision.