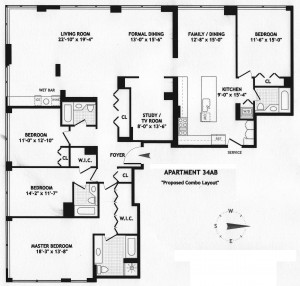 .
Our client was a realtor representing the owner of a 34th floor, 3-bedroom apartment overlooking the Hudson River.
The adjacent 2-bedroom apartment was vacant, and the realtor wanted to present a combination – a 3,000 sq ft 4-bedroom apartment.
We created a Virtual Model of the combined apartment, including a gourmet kitchen,  den, family room, and a 45-foot long Living/Dining room with wraparound views of the Hudson River.