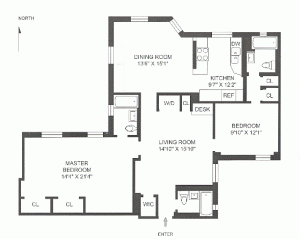 In this project, our client was a contractor hired to update a renovated apartment.
In the original renovation three small apartments (two 1-bedrooms and a studio) were combined to make a large 2-bedroom apartment.
But the new owner felt it needed to be updated, and the contractor was proposing moving a few walls to create a more open Living/Dining area and a more luxurious master suite.
Our model shows the contractor's vision.  Closets between the Living Room and Dining Room were removed, and the Master Bedroom and bath were expanded.