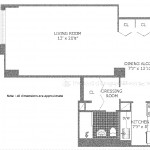 This was a very difficult apartment for the broker to show.  The owner had recently moved his mother, the former occupant, to a nursing home, and her belongings still filled the place.
The main room was long and narrow with a spectacular view of the Empire State Building from the window at the far end.
The problem:  How to show the space as it might be – with separate Living, Dining and Bedroom areas, but without blocking the light or the spectacular view.
Our solution was to create a digital model with a partition wall in the middle, dividing the space into a bedroom at the far end, and a Living Room/Dining Room in front.  The partition included two large sliding doors with glass panels across the top, allowing light from the large windows to fill the entire apartment.  With the doors closed, the two spaces were separated, but when open, the Living/Dining area was able to share the view of the Empire State, and moving the dining table out of the crowded entry allowed that space to be transformed into a gracious foyer.