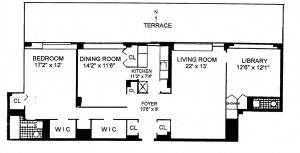 Our client's two bedroom penthouse was combined years ago from two one bedrooms.
The apartment had a bedroom at either end of the apartment, with a large dining room in the center and a small kitchen.
The 300 square foot terrace was not accessible from the dining room or kitchen, making it less usable for entertaining, and unsuitable for a family with young children.
We worked with the client to visualize the possibilities of their space, and created a design which they then presented to their architect.
The result now has the two bedrooms together in one wing, and library/guest room at the far end of the apartment. The kitchen was expanded and now has a pass-through to the dining area which is next to the door to the terrace. There is now a natural flow within the public and private areas of this glorious living and entertaining space.